Kimbriel Kennels - Havanese, Papillons
Testimonials
Happy Easter! Belle was a pretty good sport about wearing bunny ears for at least half a second. :) She remains happy and healthy and well loved! We hope all is well with you!
Lisa
---
Hi Linda,
After a long day yesterday just laying around at the house enjoying our new puppy. Below is a picture of my daughter with Desi. We finally settled on a name after Desi Arnaz to keep it cuban.
Puppy has been wonderful, have not heard him bark yet! He's been eating a little even last night and he went potty today okay. Kids have been taking him out every few hours or so. My wife is even impressed at how well behaved he is. He's getting accustomed to his new surroundings and even starting play with some new toys we got him. Dylan has completely bonded with him and taken the lead so this is good.
I'll keep in touch next week after we take him to vet. Also, thank you for the travel crate.
Thanks, Gerardo
---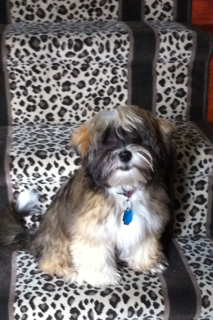 ---
Linda, Dawn and Whimsey earned their Rally Advanced title today. They also got their first leg in Novice Obedience, CD.

This was held by our Butler obedience club (BDTA), in Saxonburg, PA.

Thought you would like to see the pictures.

Bob and Dawn
---
Ira is doing very well. He is adjusting to the "house rules" and learning his place in the "pack". My daughter and I have a strange relationship where they tease each other. She hides his toys and he hides her shoes. Emoji

I have a neighbor that finds him adorable and is looking to adopt a Havanese, she lost her Jack Russell terrier last year and looking for something less active. Please keep me in mind if you have another Havanese litter.

I just wanted to give you an update and let you know he is doing great.

Take care,
Nichole Person
---
Hi Linda,
I meant to be in touch much sooner to give you an update on how well Gio (your Yogi) is doing. We are all settled in and cannot even remember life before Gio was here. We absolutely love him! A few months ago he did have to have surgery for cherry eye, but he has fully recovered and is in great health now. The picture on the right below was our Christmas card this year. Thanks again for trusting us with one of your precious puppies!
Courtney Reynolds
---
---
Call us at 301-777-7214 or fill out our online contact form.